Rate of Fatal Falls Among U.S. Seniors Doubled in 20 Years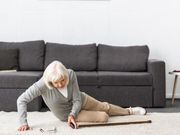 Older Americans are dying of falls at more than double the rate of 20 years ago — with women, men and all racial groups showing increases, according to a new study. In 2020, the study found, just over 36,500 Americans age 65 and up died of a fall-related injury. That was up from roughly 10,100 deaths in 1999. Adjusted for age, those numbers translated into a more than twofold increase in the rate of fall-related deaths among older Americans: from 29 per 100,000 in 1999, to 69 per 100,000 in 2020.
Figures from the U.S. Centers for Disease Control and Prevention tell the story: About one-quarter of older Americans fall each year. Roughly 3 million end up in the emergency room, and more than 800,000 have to be hospitalized — most often for a head injury or broken hip. That translates to about $50 billion per year in medical costs, the CDC estimates. [Read the full story]
Evaluating assisted living facilities
The ads often are an overpromise. Typically the models in the photos look more like Richard Gere and Julia Roberts than Mr. and Mrs. Finneran from Cleveland. As for the activities, c'mon, Pickle Ball in the morning and a Mah Jong tournament before afternoon tea! That is not a calendar day for anyone I know. Then there are the pictures of the dining room. Gordon Ramsay himself would be proud to serve up those dishes in a setting rivaling the Gardens of Versailles.
But all that said, the theme is in the right direction. It's important to put the emphasis on "living," being active, being engaged, being social, being purposeful, even if a bit hyperbolic about what that entails.
An environment that puts the focus on joy and meaning makes it palatable to remember we're at a care facility to get through the day without mishap, because it is assistance we need, not dance lessons.
To that end, here's what to look for when choosing an assisted care facility.
What may be the most important consideration is a setting that is home-like, with services designed to continue a resident's independence for as long as possible. From there, it's behooving on the resident to be candid about what is required and included in the "assisted" half of the phrase, "Assisted Living." Meal service, for example. Can you, do you want to do the cooking? Do you need personal care to dress and bathe and monitor your medications? Housekeeping and laundry are chores to be done, either by you or the facility's staff.
Playing a role in compiling the list of services you need/want, is the cost… and the budget you can afford.
Optimally, the goal is to stay independent and mobile to fullest extent possible.
Stay in touch with: Senior News Daily